Thursday, June 30, 2011
Chisai Ghoul @ 10:33 AM
Brain cramps are the worst. Managed to dust away the spiders in my head with
a new project called 'Chisai Ghoul' you can view the other drawings on my website, click here for a quick transportation!

I've been given the chance to collaborate with some of my artist friends, I
will be having the results in the near future. If you would like to collaborate
with me (art, writing, photography~etc) be my guest and drop me an email. I
won't be busy with work until the next couple of weeks, abuse this request all
you want.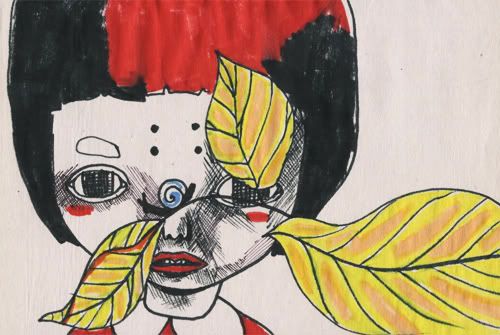 On another subject, this song's been on loop for a week. I love it..
Yes,
I'm a hardcore fan of the Japanese band Arashi. I usually don't confess this but
there you have it! My obsession is no weirder than those who love Star Wars or
Superman, we love people in tights. I suppose. The real purpose for this random
confession was this screenshot, I liked it so much that I had to share it!
Labels: drawing